I'm so excited to be participating in The Magical Product Swap. In honor of this special event, my
TPT store
is on sale starting now until the 8th.
One of the most important math skills I teach is time. My students need it not only because it's in the standards, but because it's a super important life skill. That's why I was thrilled to receive this pack to review the
Telling Time Pack
from Melissa at Dilly Dabbles.
As a resource teacher I am teaching math for kindergarten through 4th grade. This product was perfect for me because it covers time to the hour, half hour, and to 5 minutes. It's awesome when I find a product that works for multiple levels of learning. This one was a total score!
Let's get down to it. The Telling Time Pack includes matching cards, Bingo cards, a template for a book to go along with The Grouchy Ladybug book, matching puzzle cards, pokey flash cards, cut outs and instruction to make a paper clock, a Mr. Fox game and clock template, elapsed time word problem cards, classroom schedule cards, and a resource list. You can check out pictures of each activity below.
Here are the matching cards. Some great ideas are included for using them like playing war, playing memory, playing go fish, or just matching them. Each level is color coded for easy differentiation too!
The Bingo/4 in a Row cards come with 10 different cards. These would be great for a small group or center activity.
The fill in book to go with The Grouchy Ladybug story by Eric Carle is really looks like it would be a lot of fun for students first learning time and I know many teachers use the book to introduce time. I didn't make the book yet, but I will when my younger students work on time. They would love it.
Many of my students love puzzles. The puzzle cards are great because they are self-checking since I cut them each differently. Activities that give instant correction are a personal favorite.
Another self-checking activity is the pencil poke flash cards. Students poke their answer and then flip over the card to check it. They immediately know if their answers are right.
Word problems are huge this year at my school. So having word problem cards and a key is great. The fact that they cover elapsed time is a bonus because it is always a skill my kiddos need extra practice with to master.
Another part of this pack was the classroom daily schedule cards. I use something very similar to these in my classroom already because it is so important for the students to know what the schedule is. I love that the set includes some blank cards too.
A Mr. Fox game and two clock templates are also included in the pack. The game would be perfect for getting some movement into the lesson. Finally, a list of additional resources/book ideas is included.
The pack included a lot more than I thought it would and is a great addition to my classroom. I love the variety of activities and that it covers different levels. Please stop by and check out Melissa's TPT store, Dilly Dabbles.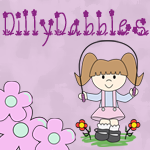 Please be sure to stop by and check out all of the other fabulous products being reviewed as part of The Magical Product Swap. I'm sure you will find something fabulous for your classroom.